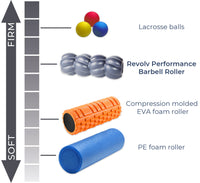 How firm is the Revolv Barbell Roller, and is it the right choice for me?
We aim for the sweet spot when it comes to firmness. The Barbell Roller is specially designed to reach deeper layers of the muscle tissue. Our roller is firmer than most other foam rollers, but softer than a lacrosse ball. This makes it ideal for deep-tissue massage and especially useful for targeted relief of persistent muscle knots.
Will the Revolv Barbell Roller fit on my barbell?
The Barbell Roller is designed to fit all standard Olympic barbells. The industry standard sleeve diameter of an Olympic barbell is 50mm (2 inches), so that weight plates will fit across different brands of Olympic barbells. If you are concerned whether or not your the Revolv Barbell Roller will fit on your barbell, we recommend you measure your barbell's sleeve before purchase.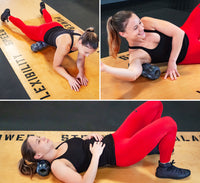 Do I need a barbell to use the Revolv Barbell Roller?
No, the Barbell Roller works with or without a barbell. The ability to fit on a barbell simply allows for more versatility in how you can use the roller. Many athletes from non-barbell sports have found our roller extremely useful, especially those seeking relief from chronic aches and pains associated with exercise.